Echo is an incredible fly rod and fly rod company. Echo fly rod is the vision of Tim Rajeff. The Echo fly rod line has been years in the making ever since Tim started casting competitively at the Golden Gate Angling and Casting Club in San Francisco.
These fly rods are beyond durable. I'm sure you've seen the countless videos of Echo rod owners bending their rods way beyond the breaking point of most normal rods without a single crack. We review Echo's best selling fly rods below.


EPR
Perfect for short accurate casts. With a fast tip, picking up line and making a short accurate cast is easy with EPR. The thick robust bottom half of the rod helps with fighting beefy fish and makes endless casting a breeze, even when it's windy.
Echo 3
The Echo 3 also comes as a four-piece in varying line weights (3-8) and lengths (7'6†– 10'). The rod is delicate enough to present a Parachute Adams to a rising trout but beefy enough to pull in a fat bass. It's truly a versatile rod.
Echo 3S Ti
A four piece rod that's perfect for traveling. The fast action makes casting a fun and easy. It's a versatile rod that you can cast all day and has enough backbone to turn the strongest of fish. The Echo 3S Ti is available in 7 line weights (6-12).
Boost
The Boost is truly a versatile rod. Available in multiple line weights from 2 through 12. The Boost has a fast action that's perfect for quick casts with pinpoint accuracy.
Boost Salt
The Boost Salt is a meatier version of the Boost with a fast action and beefy butt section. The Boost Salt is perfect for saltwater and freshwater fly fishing.
Echo Dry
The Dry as you'd guess is built for delivering flies delicately to skittish trout. Available from a 2 through a 6 line weight in 9 feet length. Perfect for short accurate casts.
Ion XL
The Ion XL fly rod is a fantastic rod, especially at it, 's price. With a medium-fast action, the Ion XL is slower than the Boost fly rod series. You will not find a better fly rod at this price.
Carbon XL
The Carbon XL is a medium fast action fly rod in 2 through 6 line weights. This rod series is perfect for casting dry flies to trout and leeches to bass.
Shadow II
The Shadow II is the perfect European nymphing fly rod. It comes in 2 through 4 line weights. Perfect for mending line in large rivers and creating a dragless drift.
Grab the Competition Kit ($74.99) that includes two 6 foot extensions and a removable fighting butt.
Trip
The Echo Trip is the perfect ultra-compact fly rod for your backpacking trips. Available in 3 line weights (5, 6, 8), all 9 feet in length and 8 pieces. Also, fits nicely in a briefcase or travel bag, keeping it in your carry on so you don't worry about losing your rod to checked baggage.
Check out this video created by team Echo that shows how durable the Echo fly rod is.
Echo's Fly Rod Action Chart
Echo built a useful action and power chart that ranks each of their fly rods.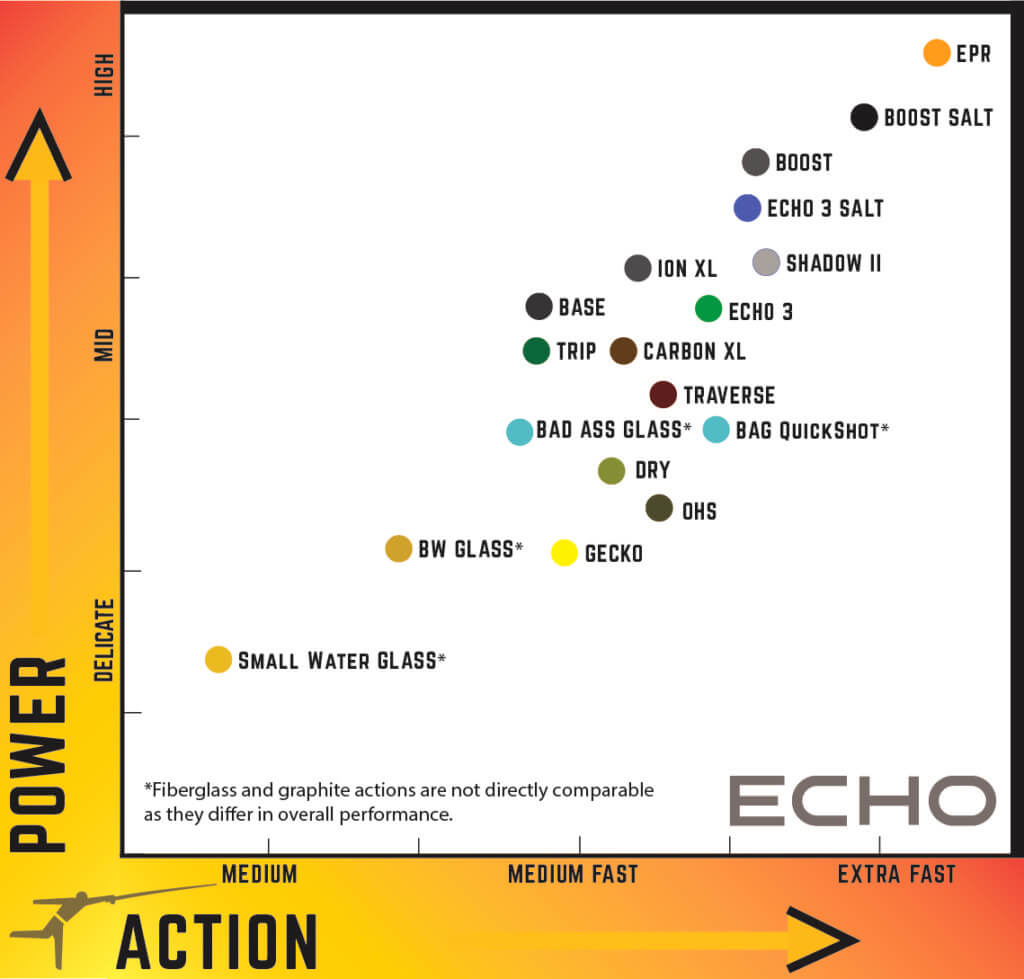 [slideshare id=106968332&doc=echoflyrodreview-180722011806]