Nashville is one of the fastest growing cities in the south and the entire United States. Nashville is not only home to country music but it also houses some of the best warm water fly fishing with cold water a short drive away.
Percy Priest Reservoir
Percy Priest Reservoir just outside of downtown is a huge reservoir with numerous fish species to chase with a fly rod. Percy Priest has some of the best-striped bass fly fishing.
Cumberland River
The Cumberland River is also a short drive from downtown Nashville. The river is home to even larger striped bass than Percy Priest. The river is plagued with submerged trees which makes fighting these monsters difficult.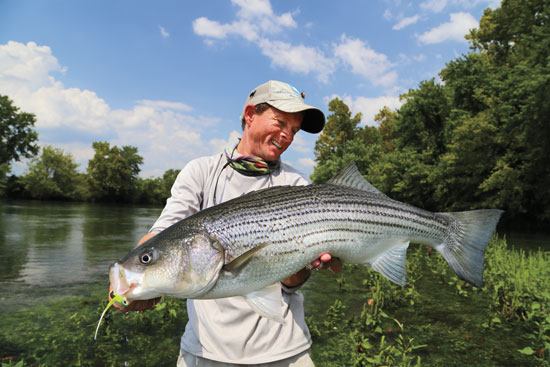 Harpeth River
The Harpeth River is a fantastic river to float and cast for smallmouth bass. The river is a popular local hole that is typically crowded on summer weekends.
Caney Fork River
With Nashville being centrally located in Tennessee, it's a short drive to some excellent cold water fly fishing. In particular, the Caney Fork River is a fantastic fly fishing destination for large brown trout, rainbow trout, and some brook trout. It can be easily fished from a boat and by foot at a couple of its public access points. Keep in mind with it being close to Nashville, the summer weekends are crowded with kayakers and waders.
If possible, go during the week or on the weekend when the weather is not desirable. A good rain can stir up a midge hatch. The Caney is a bottom release dam on Center Hill Reservoir. Sometimes during heavy rainfall, the dam will be opened to allow for the excess rainfall to leave the reservoir and limit flooding up the river of the reservoir.
Nashville Fly Fishing Guides and Shops
Here are a couple of reputable fly fishing guides and fly shops in Nashville.
If you're just probing for answers to your questions, it's best practice to purchase something from the fly shop first. In-store purchases tend to grease the information wheel.
Places that in Tennessee and day's drive of Nashville
Great Smoky Mountain National Park

Holston River

Clinch River

Duck River

Elk River
---
Tight lines! As always, send us your fly fishing pictures. We'd love to share them!